Bringing Friends & Family Back Around the Table Cookbook by Chef Terrie Kohl
Hardcover ($24.95)
From Chef Terrie:
My mission is to de-mystify home cooking. When I create my recipes, I try to make them always family-friendly, use ingredients that are found locally, and make it so they are completed in two hours or less.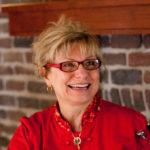 After dreaming for years of publishing her own cookbook, in 2018 Chef Terrie Kohl did just that. That year also marked the 15-year anniversary of her business, Country Club Market, and her career as a customized caterer, culinary instructor, baker, and personal chef.
Chef Terrie developed a love of cooking at an early age, inspired by the magical moments she experienced in the kitchens of both of her grandmothers and in her own home. Lovingly termed a "legacy cookbook," this book shares Terrie's life journey, memorabilia from family recipe drawers, Terrie's recipe creations, as well as original recipe cards from her mother and grandmothers.
Cookbooks may be ordered directly from Chef Terrie by emailing terrie@countryclubmkt.com. She'll even autograph it for you. Books are also available for purchase from the following Des Moines area locations: Barnes & Noble, Kitchen Collage, Beaverdale Books, Hope Cafe WDM, and Hidden Treasures.